My parents have always been supportive of me and their dedication to this blog is no exception. I was over visting them during my brief vacation last week and my dad had a product for us to split- a can of Boing! Tamarind Nectar from the local (largely hispanic) grocery. Dad would get to try something new and unusual with another adventurous soul and I would have fodder for my blog.
Let me start by saying this- you've got to name your company something, why not name it after a cartoon sound effect? Perhaps Boing! means something else in Spanish- if so, I'd like to think that this word is said as "BOY-YOY-YOY–YOY-ING!" when pronounced.
I'd also like to point out that I tried to find a suitable copy of the Boing! logo or a picture of the actual can for posting on the site, but I've got say Mexico is lagging behind when it comes to having their products plastered all over the web. I will leave it to the individual to decide if this is a good or bad thing. I did find a picture of Tamarind Nectar poured into a glass- not sure if this is the Boing! brand or not. What I drank looked just like this- which probably leads many of you wondering why I actually decided to drink this. Hey, why not drink it? That could be my famous last words were this a solvent of some sort, but seing as how it was packaged as a beverage, I figured I'd survive the experience. AND now I know what Tamarind Nectar tastes like.
It's SWEET. Cloyingly sweet. I'm not sure if that's from the Tamarind itself, or due to an excess of added sugar. Probably a little bit of both. The strongest taste here was sweet, sweet, sweet- and a slight fruity taste, kind like that of raisins, especially golden raisins.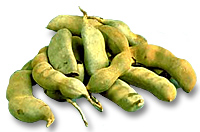 So I guess it's an acquired taste- I can see people liking this if they were brought up drinking it or eating tamirinds. Which leads me to ask this question: based on the picture of tamarinds on the left, who was actually brave enough to try this? An adveturous caveman who promised his cavefriends to eat 52 new foods in a year?
I wonder if that caveman was named Boing.