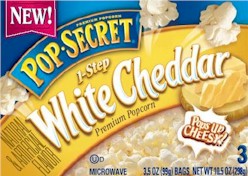 This is the second 52 Foods entry (see my review of O-Ke-Doke Hot Stuff Cheese Popcorn) to focus on Cheese Popcorn. Yes, I like Cheese Popcorn. The best I've had have been from shops like Garrett's (worth waiting in line for) and The Long Grove Popcorn Shoppe (worth putting up with the pretentious spelling of shop for). My hope is that I may one day enjoy popcorn shop quality popcorn in the convenience and cost-effective method of an over-the-counter product, available at grocers nationwide.
I had high hopes for this- Hey, it "Pops Up Cheesy!" as it says on the box. No pourable solutions, rubs, sprinkles or dusting powders required. This appeals both to my efficient and lazy sides- I don't want to complicate the already tedious 4 minute popping process further by having to do something extra to make my microwave popcorn cheesy. Hey, I have blog entries to put off, I don't have time to prepare complicated popcorn.
So yes, this is 1-step Cheese Popcorn. The taste? Less than thrilling. It tastes cheesy, but not super cheesy, which is maybe what I was hoping for. It smells a little like feet, which doesn't help matters any. Perhaps if I bought the fluorescent orange variety of this product I would think it tasted cheesier, but I didn't. I had to get all fancy and go white cheddar. I guess I thought I'd enjoy it in the back of my limo with my Grey Poupon.
I have some advice for some variations of this product for the good people at Pop Secret. Consider it a gift- repay me in free popcorn.
1) Pop Secret Obnoxiously Orange and Obnoxious Cheesy Zero-Step Cheese Popcorn: That's right, ZERO step. I should be eating it already. Microwaves are so 20th Century. It should pop just by me thinking about it.
2) Pop Secret Two-Step Cheese Popcorn: For the Country Music fans.
3) Pop Secret 12-Step Cheese Popcorn: The first step is admitting that you want to have cheese popcorn…