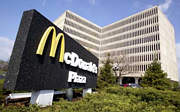 I live within ten minutes of McDonald's world headquarters. You'd think there would be some benefit to this: attractive co-eds from Hamburger U. hanging out at the local mall, random Grimace sightings at area taverns, elcetion paraphenalia from Mayor McCheese, that sort of thing. But there was nothing, until this past May.
McDonald's just built a massive new restaurant adjacent to its headquarters in Oak Brook, IL- and it's what every McDonald's dreams it could be. The massive stone-faced building beckoned Debbie and I for weeks as we drove passsed- and the McCafe emblazoned on the side only added to the allure. This McDonald's was going to be everything the execs over at corporate dreamed about- showy, modern, expansive- and everything the majority of their restuarants are not. That's no knock on the average McDonald's- while they serve up tasty grub, many are showing their age.
Debbie and I went with the kids on a warm spring weeknight- and we were able to dine outside in their neatly landscaped patio- complete with metal and wood chairs which were both attractive and comfortable.
The inside of the restuarant was just as unexpected- clean and modern. Employees were happy and helpful. The McCafe stood apart from the regular counter, offering gourmet coffee and baked goods. A machine allowing a customer to burn music or photos to a CD stood nearby. And the menu offered a premium chicken sandwich- quickly answering my question of whether this new McDonald's would test things out for the chain before they went nation- or world- wide.
I got a buffalo chicken sandwich in addition to my BigMac Value Meal (hey, I'm a big guy- it takes a lot of fuel to run a machine this size). The chicken sandwich could have used more buffalo wing sauce (it was squited on the bun, rather than coating the patty) but it was mostly a sucessful experiment (there were other varietes of the premium chicken, including a BLT).
The overall experience was very nice- a showplace for McDonald's brass to their franchisees- "can't you aspire to be like the McD's right outside our corner offices?"
I've only been the once, so I'm not ready to say "I'm loving it". but I am "liking it a whole lot"