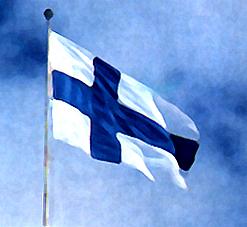 Know of any good Finnish restuarants?
Know of ANY Finnish restuarants?
I've never had Finnish food, and if you listen to French President Jacques Chirac (who claims it's the only thing worse than British food) or Italian Prime Minister Silvio Berlusconi (who said he had to "endure" Finnish food), I guess I'm not missing much.
But I will investigate further- I can't fly to Finland any time in the near future and the Finnish speciality shops seem few and far between, so I will turn to the web to see what is has to offer.
There are over a million and a half hits on Google for Finnish food. Add Delicious to the search terms and you're quickly down to 287,000. Not a good sign.
I quickly found the link for FinnishFood.Net- a website selling Finnish Food. Here's how their catalog breaks down.
Bakery products-> (54)
Coffee, tea & cocoa-> (13)
Condiments-> (28 )
Confectionary-> (161)
Conserves-> (29)
Flour, porridge, mixes etc etc-> (48 )
Jams-> (5)
SEASONAL products-> (1)
Specialities-> (45)
Heavy on the sweets, but I think most ethnic food websites are. Hey, do you move do another country and miss your favorite ketchup? Well, maybe, but sweets would seem to be what most people might miss.
Clicking on confectionary, things break down this way:
Chewing gum (12)
Chocolate (48 )
Christmas Confectionary
Licorice (18 )
Other (34)
Salmiakki (26)
BIG treats-> (23)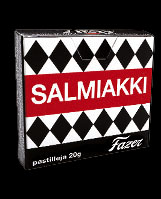 Salmiakki? What's that? Well, I looked it up- and I think I've tried it. Roughly speaking, it looks like liqourice, sometimes tastes like it and is quite salty, as its chief ingredient is ammonium chloride. Ammonium chloride is used in dry cells batteries and fertilizers…oh, and in Finnish candies and vodkas. If this was the stuff I had, I remember it being somewhat foul, but I also remember somehow liking it, too..
Other Finnish treats from the site: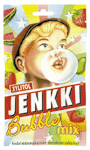 I really dig this gum package. This kid's from another era, but that won't stop him from blowing bubbles, no sir..
I like a candy bars with a simple name…Jim is simple.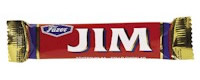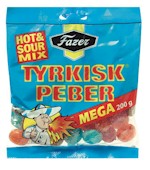 This was described as being hot and spicy fruit flavored candy. Why did somebody decide to make this in the first place, and why do I want to try it? (and did I just answer my own question?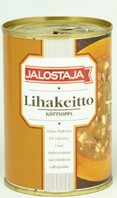 This was described as "traditional old style meat soup, nothing else is like it." Somehow, I think this statement goes beyond marketing hyperbole.
All told, they've got some quirky foods, but nothing too different from any culture. Chitlins, anyone?
I also saw this on a different website discussing Finnish food:
Sausage is the basic Finnish fast food. According to a saying 'A Finn is never too full not to eat a bit more sausage'. Grilled sausage is served at every jazz, rock and other music festival, and at sports meetings, fairs and agricultural shows.
My thoughts:
Great saying

Sausage at a rock concert? Good call.

Sports Meetings? That's excellent.
In othe Finnish news, I saw on the news recently that the annual Wife Carrying Contest occured in Finland. The contest, you may guess, involves a man carrying a woman (it doesn't have to be his wife) through a course complete with dry and water obstacles.
The prizes to the winner include high-tech cell phones and rye bread- and the wife's weight in beer.
Finland, your heart is definitely in the right place. World leaders, have some tradional meat soup and chill out.