Recently I found myself at Super Target, picking up various groceries and household items. Among the things on my list was a new deodorant/antiperspirant for yours truly.
So I went to the men's deodorant section and tried determining the best brand for me. I went nor only by the sent through the plastic container, but also by the cleverly calculated names for each sent- Heated Rush, Glacial Poke, Iambic Breeze, Cool Ranch and so forth.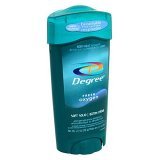 So I ultimately decided on Degree for Men- I don't remember the actual name of the scent or what made this scent stand out among the others. I think I chose it amongst the other Degrees for Men, and I chose that brand because I never tried it before.
It's what happened when I got hope and openied the cap that leads me to write about the whole experience.
You know the little protective cap that's on the deodorant in stores, under the main cap and protecting the pruct somehow? Well, when I lifted this one, I was in for quite a surprise…
There were words imbossed in my deodorant
GO FOR IT
You see, I was going to just take it easy that day, but once I read my deodorant, I was ready to conquer the world. And conquer the world I did! Meet your new Emperor!
O.K., so that part I may be exaggerating upon a bit. But this much is true- this deodorant goes the extra mile. While others are content making us smell good (or not smell at all), Degree for Men goes one step further- it gives us the strength to carry on!
I assume go for it is the only message- but could "Stop Smoking", "Dare to Dream", "Carpe Diem" and "My Wife's Other Deodorant is a Broom" be far behind? I hope not.
I briefly considered keeping the cap and either A) putting it back on the deodorant after each use to reset the message, or B) washing it throroughly and using it as a press on various foodstuffs around the house. What goes better with Go For It bacon than Go For It pancakes? And what could be a better start to your day?
A full set of inspirational stamps could make this world a greater place. Want to use that idea for your own personal gain? I say go for it. Or maybe that's just my deodorant talking.